This Penthous has been built and is ready for its new owner to finish it to the new owner's style. Viewing appointments at the spot are possible. Woudl you like to come and have a look at your future views? Please contact us.
A Sky full of stars! At almost 75 metres, the Amsterdam skyline forms the backdrop to the exclusive penthouse, AMS. Waterfront. From the master bedroom or the terrace you can take in the starry night and the dynamic city lights.
If you listen carefully, you can hear a distant ship's horn sounding on the IJ. The port of Amsterdam is slowly waking up after a chilly night. You roll back over in bed and enjoy the pleasant interior temperature created by the sustainable heating sources in this remarkable and ultramodern building.
Your clean clothes that were delivered yesterday via the in-house service +James are hanging ready for you in the ample walk-in wardrobe. The automatic curtains open ... time to get up and drink in the luxury of your own penthouse in BOLD Amsterdam.
AMS. Harbour Sunset (374 square meter)
In your penthouse, you feel inextricably connected to the dynamics of the IJ when you watch it from on high as it flows into the IJmeer. You can enjoy new vistas every day. From your 70-metre-high living room, you look right down onto the water and gaze at the city lights beyond. Amsterdam is at your feet. Inside the premium two-storey apartment you have ample space. Two bedrooms, a study and three bathrooms, a spacious kitchen and an extraordinary light-filled strata void. It gives this ultramodern property an absolute grandeur.
BOLD Amsterdam is all about you
Our fundamental aim is for BOLD Amsterdam residents to be able to enjoy a personal service experience. In this world-class accommodation you should lack for nothing. Among other amenities, BOLD Amsterdam offers a wine cellar, a gym, a cinema or theatre and guest rooms.
These services are run by the homeowner association and can be purchased through their booking system or subscription.
Smartphone at your service
Your Sky Villa features a lot of domotics, or home automation, that makes life pleasant and convenient. In addition, you can use your smartphone to controll all kinds of things from your energy management system tot the sending and receiving of parcels.
Cosmopolitan heart of Amsterdam
The comfort of your Sky Villa and all services and amenities in BOLD Amsterdam almost make you forget where you actually are, the absolute pinnacle in living experience is in a bustling place in the cosmopolitan heart of Amsterdam. Within walking and cycling distance of the historic canals, theatres, Michelin star restaurants and all imaginable amenities in the rich city centre.
You're just ten minutes' walk (including a short crossing on the permanent ferry over the IJ) from Amsterdam's Central Station. Twenty minutes later you can be in the departure hall of Schiphol (AMS) Airport ready to fly to your destination. By car? A garage box and a parking spot is available in the parking garage.
If you would like to know more, please do not hesitate to contact us. We can send you more infromation or schedule an (online) meeting or a viewing appointment in the Penthouse with you.
Read more
Highlights
Badhuiskade 349
Wijk: Noordelijke IJ-oevers West
Postal Code: 1031 KV
Location: Amsterdam
Price: € 3.050.000 k.k.
Status: Verkocht
Living space: 374 m2
Rooms: 4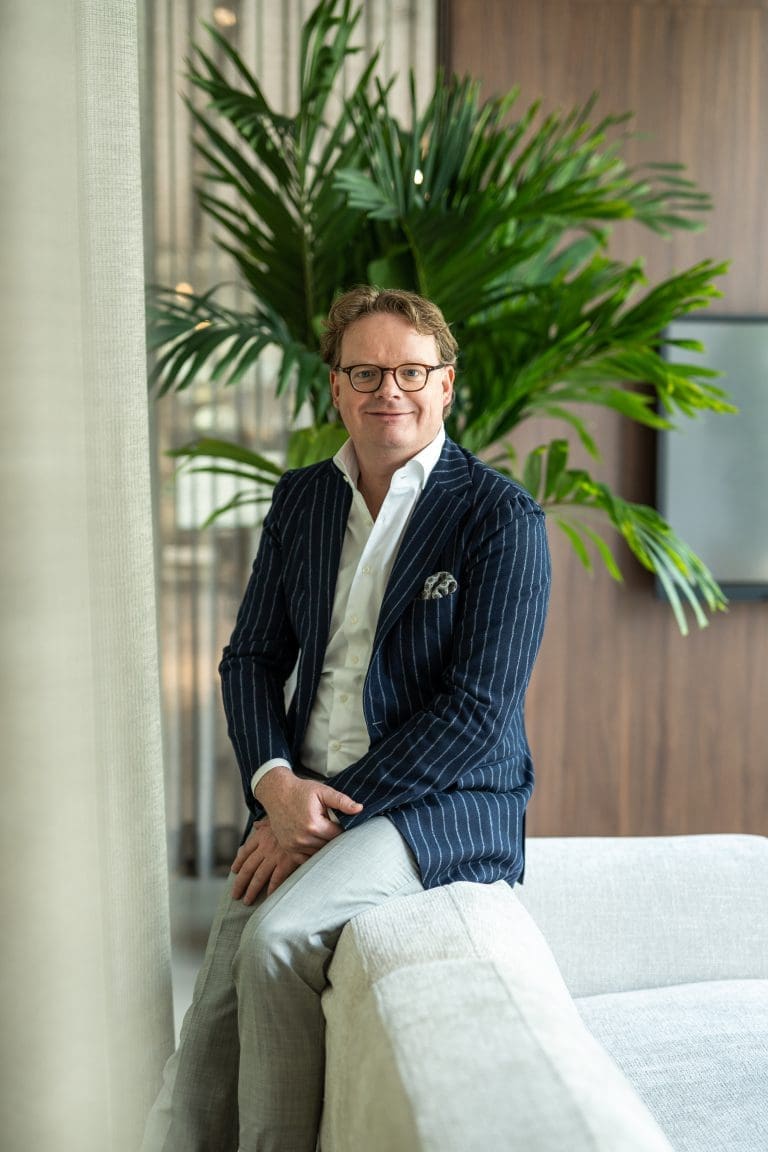 Broker
Gernant van Alphen
Call or email for an
appointment
020-3052662
info@ramonmossel.nl
Address
A.J. Ernststraat 555
1082 LD Amsterdam
Find your new home
Request viewing
Heb je interesse in Badhuiskade 349 – Amsterdam? Laat je gegevens achter en wij nemen contact met je op.